Northern Dental
"Serving Santa Clara, California For Over 30 Years"
408-556-1333
122 Saratoga Ave., Santa Clara, CA 95051
Braces are bonded brackets, archwires and elastic bands that move crowded or spaced teeth into the proper position for appearance and function.

Over a period of time, teeth will shift if constant, gentle pressure is applied. Brackets are bonded to the front surface of each tooth and wires are attached to the brackets with elastic bands. The slight tension on the wire is gently transferred to the bracket through the elastic band.

Today's orthodontic treatment is faster, comfortable and more fashionable than ever for children, teens and adults.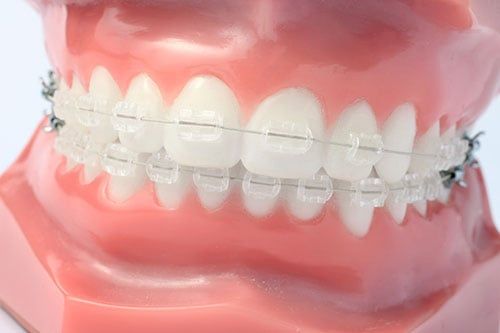 Translucent 'clear' braces and tooth-colored ceramic brackets provide a very aesthetic alternative to traditional metal braces. Today's clear braces provide the same quality of treatment as metal braces but are simply less noticeable.
Northern Dental is keeping up with advancements in adult orthodontic procedures. Many new developments in today's orthodontic treatments have focused on helping adult patients. If you live in the Santa Clara area and your teeth are crooked, call us at 408-556-1333 to schedule a consultation to discuss possible orthodontic treatments. It may be that adult orthodontics are just what you need to attain a smile you can wear with confidence.
As more and more adults are wearing braces, the dental industry has realized that improvements in traditional braces are needed. These improvements in adult orthodontics have resulted in smaller, stronger, more efficient and less conspicuous brackets.
Although metal brackets are the most familiar, clear and tooth-color ceramic and plastic brackets are now available. Call 408-556-1333 and schedule a consultation with Northern Dental today.
Get The Care You Deserve!
The staff at Northern Dental would love to meet you and your family and provide you with the dental care you need and give you all smiles you deserve! Our office provides the dental care you need to achieve the beautiful, natural look you seek. We can even reshape your natural teeth to make them straighter and more youthful. Our office is easily accessible and makes it convenient to those living near Santa Clara to get the care they deserve.
Request An Appointment Online
Or call us today at: 408-556-1333
Northern Dental Health Services Plan
We at Northern Dental are excited to offer our patients the unique benefit of significant savings on quality dental care. Because NDHS is privately owned, we are able to offer you what many others cannot, namely our exceptional care at reduced fees, all with you in mind. We are happy to have you join those who have discovered a great way to receive quality care AND great savings. So, welcome to Northern Dental Health Services!
Learn More